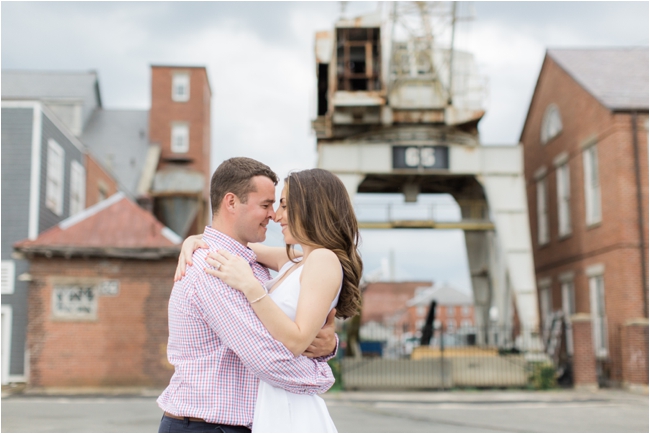 A Charlestown Navy Yard Engagement Session
Dark clouds swirled in the sky, lighting thundered in the distance and a spatter of rain fell throughout the air. Despite the weather predictions we had collectively decided to take a chance and meet at the Charlestown Navy Yard for Chris & Kara's engagement session. But as the time drew near I became increasingly nervous that it just wasn't going to happen. In fact minutes before they arrived a large dark cloud covered the entire sky...this was it, time to cancel.
But just as I was about to call it off Kara and Chris arrived, jumped out of the car and said "Let's do this!" Inspired by their can do attitude, we jumped right into the session. And I'm SO glad we didn't cancel!! The dark clouds parted, the rain began to stop and it all led to some of the most beautiful golden light I've seen all year!!
Kara and Chris met while Chris helped a friend move years ago, that friend just happened to be Kara's roommate!! It's evident that their friendship provides the foundation for their relationship and you just can't help but notice how much fun these two have together...as a photographer it is a beautiful thing when your subjects share a piece of who they are with you. I loved being able to photograph this beautiful couple, two best friends who cannot wait to build a life together. Their inviting, carefree and loving personalities made this engagement sesion a joy to photograph!!
Kara & Chris, thank you for taking a chance on the weather and being such amazing sports in whatever Mother Nature threw at us!! If this is any indication for what August might hold, I can't wait!! Enjoy your images!!