The Evolution of a Brand
Branding.
Webster's dictionary defines branding as "the promoting of a product or service by identifying it with a particular brand." Nike, Starbucks, Apple, Banana Republic, BMW, are all companies with strong brands that use branding as a way to promote their products.
But these companies take the whole branding process one step further. Their brand is not just used to sell a product. To these companies their brand is the essence of who they are, defining everything that they do from how they interact with their customers to how they move their business forward. These are fully formed identities that set these companies apart from the rest, a compass of sorts that directs every decision that they make.
When I started my business in 2009 I knew that I wanted to build more than just a brand, I wanted to build an identity. But let's face it, this process takes time, a lot of time, and when you're just starting out you don't have all the tools to create such an identity. So you just start somewhere. That's exactly what I did, calling on my friend and budding designer, Tara to just "put something together" that made me look semi professional. And because all businesses have a logo, I thought that's where I'll start.
Now I'm not sure if this was the right way or the wrong way to approach the early stages of my branding. But I don't think that I could have been able to do it another way. When I was first starting out, all knew was that I wanted to be a wedding photographer. I didn't know the TYPE of photographer I wanted to be, or the TYPE of clients I wanted to work with or the IDENTITY I wanted to create. I didn't know how I wanted potential clients to PERCEIVE me or the kind of STYLE I wanted to develop. All I knew was that I need a logo, and so Tara created me one.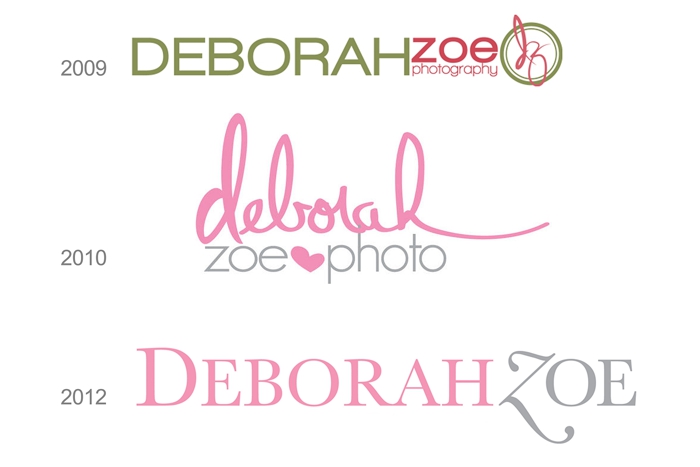 With the help from my amazing designer, Tara, my brand evolved. As the business grew and as I grew as a photographer, with each passing year I gained a firmer grasp on the type of business, brand and identity I was creating.
In 2009 I just wanted to start my business. I wanted to be a wedding photographer. And I really didn't have much else.
In 2010 I still wanted to be a wedding photographer but I realized that's ALL I wanted to be. I didn't want to be a portrait, children's, event or boudoir photographer. No, I just wanted to be a wedding photographer.
In 2011 I started to develop WHAT kind of brand/identity I wanted to create and WHO I was creating that for. But it would take a further journey to dive deeper into these questions that would lead me into 2012.
In 2012 I began getting specific about the TYPE of weddings I wanted to photograph, the clients I wanted to work with, the identity I wanted to convey and the voice I wanted to have.
As you can see this process has taken several YEARS, with a constant redefining process. How did I get here? By asking tough questions and then taking the time to answer. By consistently pushing forward, even if I didn't know where the future lead. By trying to building something larger than just a logo. By using the unique qualities I possess to create something more than just a brand.
Can you create an identity/brand for your business? Yes, absolutely. Be prepared though, the journey is long and hard (and never really ends). A journey that is worth all the sweat, tears and late nights. I've certainly learned a handful a lessons along the way and I've shared my top five below. I'm not a branding expert, rather just someone sharing what they've learned through a long process of hard work and self evaluation. These are meant to be tips to get you started, asking the right questions and headed in your own direction.
1. Ask yourself the tough questions and get specific.
As I prepared to reevaluate my branding and budding identity I had to ask myself some tough questions that honestly were hard to answer. Why? Because they required specific responses and many of those didn't match up to the brand I had begun to create. Questions such as: Who are you? Who are the people you want to serve? What kind of photographer are you? What is the message you are sending? What is your target client and what is your ideal client? How are you different and what makes you unique? These questions take time to answer and you can't rush the process. Sit with these questions, mull over them and be specific in your response. You'll then begin to see a clear picture of the type of brand you want to create, tailored to the type of client you want to serve.
2. Consistency is key.
An easier concept for me to grasp was consistency. Perhaps it's my OCD nature, but I love consistency, balance and organization. In order to build a STRONG brand you must be consistent. This applies to everything you do from your online presence to your blogging schedule to when you post on Facebook to how you correspond with your clients to how you act on a wedding day. People want to trust you and your business and you garner that trust through consistency. Is your website consistent with your blog? Is your Facebook profile consistent with your branding? Are you giving each client the same experience? Does your packaging match your brand? Be consistent in everything that you do.
3. Developing a style, a specific style.
It's taken me several years to develop a style as a photographer. But whenever I go out to a wedding or engagement shoot I have a specific vision in mind: To create intimate and iconic images. That's my style. That is the type of photography I want to create for my clients and that is the goal I have every time I pick up a camera. Are some people not going to like that? Sure, but that's ok. I want to work with people who connect with that vision, who have the same vision in mind when they are looking for a photographer.
4. Be specific and differentiate.
Building a strong brand is not about pleasing everyone. It's about catering to a specific niche. That process for me looked a little like this: Be specific (I want to be a wedding photographer) Differentiate (I want to create intimate portraits and iconic images for classic New England Brides). Be specific about WHO you want to serve and HOW you want to serve them. Look at Starbucks for example. They are a coffee company yes, but they also a LUXURY coffee company specializing in the client experience. They differentiate themselves through the experience they give their customers and in the way they price their coffee. Be specific and differentiate.
5. Let your personality shine and allow others to connect (or not) with you.
One of the BEST ways to differentiate yourself from other brands out there is by using YOURSELF and your unique character to be the defining factor of the brand you create. From your blog posts, to your website to your marketing materials, to the way that you dress, respond to emails, talk on the phone, and the photos to post to Instagram. These are all ways to leave your mark and ways for potential and current clients to connect with you. Be genuine in the things that you share (don't pretend to be someone you're not for the sake of building a brand) and the way that you connect with others. Give people an opportunity to connect with who you are and let that help you strengthen and grow your brand.
I hope that this helps you begin your journey to creating a strong, vibrant and unique brand. There is SO much more that we could talk about, as I've only skimmed the surface. If you have specific questions about branding and identity or about my journey, leave them in the comments section below. I'll be answering your questions all day and I'm excited to start the conversation!
For more branding goodness check out these three books: Lovemarks: The Future Beyond Brands, The Brand Called You and Pour Your Heart Into It.
I hope that this has inspired you to look at your own business in a fresh way. You too can create an identity, just like Starbucks, BMW and Apple. What have been some of your tips to success in creating your own unique brand?