A post of self portraits? YES. Because you have no idea what it took to get these! A pink, beautiful, velvet couch may have suffered in it all and I feel I owe it to said couch to post these for you.
Ok, I'll back up, as you're probably wondering WHY I'm even post some self portraits... Remember way back to January when I said I was going to take a self portrait every month and blog about it? Well January was a success! And then February came and went without any portraits. (I was in Las Vegas and then got REALLY sick at the end of the month...) But we did have our portraits taken by the amazing Justin & Mary so those will have to count;) Suddenly that brings us to March and with the month already half over I knew I had to get back on the wagon fast or this challenge was just going to fall to the way side.
I decided it would be cute to take a picture of me in my studio journaling and drinking coffee. Do I drink coffee? YES. Do I journal? Not so much. So why I thought this was a good idea is BEYOND me. C'mon Debbie, let's keep it real, k? So as I was carefully balancing my journal and pen and cute blanket and trying maneuver with a FULL cup of coffee around the crap stuff on the floor, well you can probably guess what happened. The coffee spilled! Here is a before the coffee disaster picture. Clearly this was NOT working. Don't be fooled, sitting calmly on my pink couch looking cute with a cup a joe and not a care in the world, does not happen. Like ever.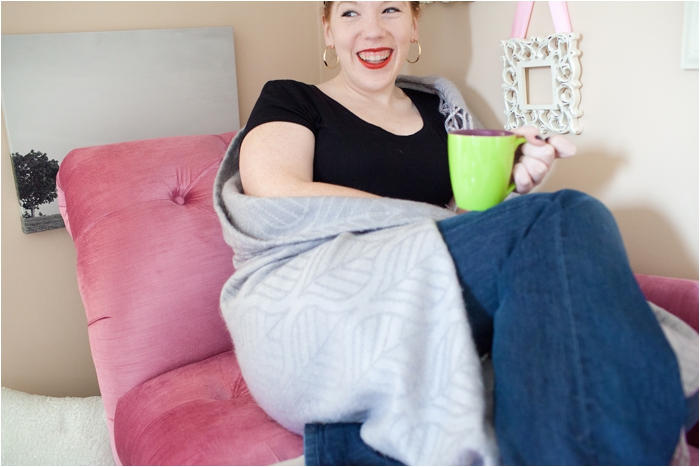 After said coffee disaster, a few choice words were said and then I tried to clean up. I knew the show had to go on and so I sat over the wet spot and continued on. WITHOUT COFFEE or JOURNAL. Just me and my silly self. (btw, I'm still lovin' the VSCO presets, especially for personal projects!)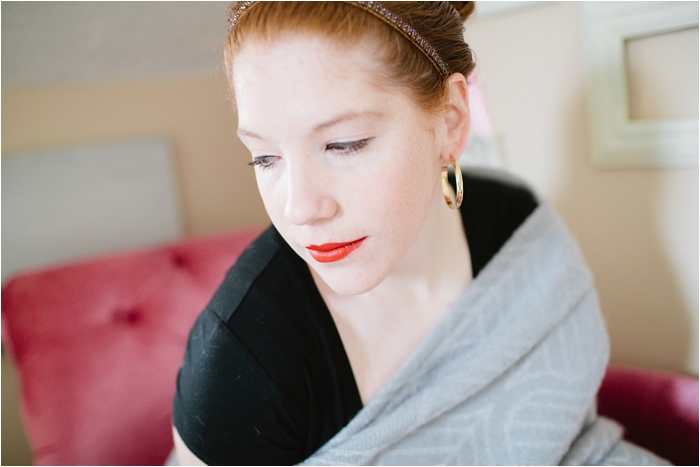 Trying to do self portraits is NOT easy, but I have to say I'm enjoying the challenge so much! (Minus the coffee mishaps.) I was giddy as I was uploading the images. Giddy because this series allows me to explore an artistic side that I don't pursue everyday. It gives me an excuse to get out from the desk and enjoy some time in front/behind the camera (didn't think it could be done did you!) If you're looking for a creative (and challenging) outlet, I would encourage you to start your own series! But remember: keep the coffee far away!