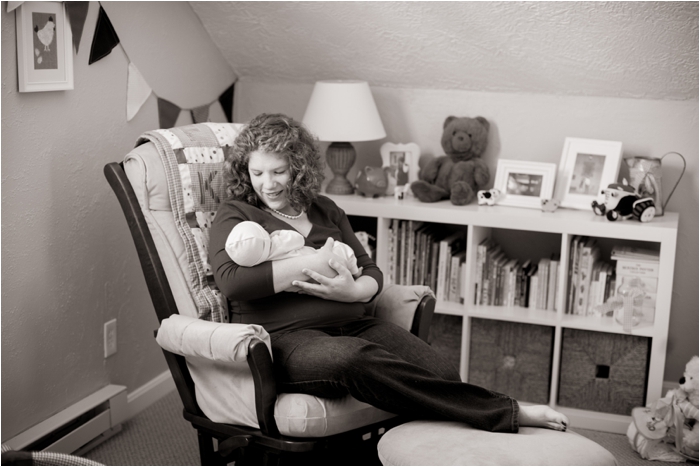 It's pretty CRAZY to think that the last time I posted a self portrait I was still pregnant. It's even crazier to think that as I sit writing this post as my husband cuddles with our baby boy. It's amazing the changes that a day, a week, a month can bring. I mean I'm already two and half weeks into my maternity leave. Could time just slow down, a little?
This month's self portrait is brought to you by my lovely friend Erin who graciously came to the house to document Jonathan's newborn pictures. I'll share more soon but for now here are a few of my favorites!! I know I'll look back on these images and marvel at just how teeny tiny he was.. (even though he was one big baby!) What sweet memories these are!!I don't have too many ambitious goals this month beyond just enjoying lots and lots of cuddles with our baby. Gotta get it in while he still wants to cuddle, right?! I'm just so enjoying these days. And while we are pretty darn tired, nothing beats holding our little man. It's something that I truly cannot describe, I never knew my heart could love like this.
So for this month I plan to take it easy, to enjoy my time at home and to begin to get ready for this year's wedding season. Here are my goals for May!
Personal
-- Enjoy every minute with our baby boy!!
-- Clean the house (HA HA HA!)
-- Sleep!!
-- Enjoy a few days away on the cape
-- Enjoy being a GUEST at a wedding later this month!!
-- Continue to work on putting together an album from OUR wedding for my mom!
-- Put together a new budget for our family.
-- Print 2011, 2012 and various vacation photographs.
Business
-- Begin to prep for wedding season.
-- Photograph a beautiful engagement session later this month.
-- Get all gear cleaned and check out.
-- Continue to work on a Client Lounge.
-- Continue to submit past and current work to blogs.
-- Order another sample album.These days are so sweet. Having our baby boy has truly forced me to slow down, just a bit, and refocus my life. As I finish this post my baby boy snorts and coos as he sleeps on my chest. What could be better than that? Absolutely nothing. I think I'll spend the rest of May doing just this ;). Happy Friday everyone!!