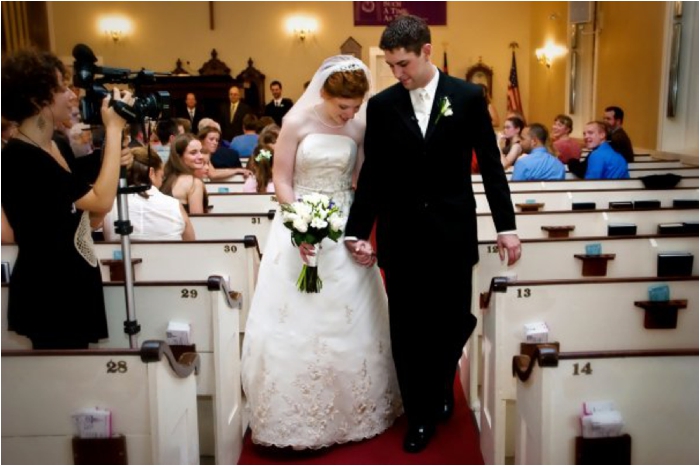 Step of Faith
Thanks for your patience as I rearranged the schedule just a bit this week in order to wish Abby and Devin a very happy first anniversary! Yes I know today is Tuesday but I didn't want to skip a Marriage Monday, so let's just pretend to go back in time shall we? :-P

Today I'm going to get personal! Ok, maybe not THAT personal but I did want to share a silly little story from my wedding day. Sometimes I think it can be easy to look at other couples and think that they have the perfect relationship. Or that they've always just had it figured out. Or that they knew exactly what they were doing. And while those that are close to Dave and I know we the farthest thing from being perfect, to outsiders it may seem that we have it all figured out.

But we don't have it all figured out and we certainly didn't have a clue when our wedding day arrived.

In our relationship, Dave is the practical one. But he's also the optimistic one. A breath of fresh air to my type A, almost pessimistic and defeatist attitude. When it came to our wedding day Dave was confident and excited, albeit nervous to be standing in front of so many people! I on the other hand suddenly found myself, for the first and only time in my life, breathing deeply into a paper bag for fear that I might pass out. And still to this day my Bridesmaids have not let me live that one down;).

While I was incredibly confident that I wanted to marry Dave, I was still scared. I was scared of the statistics, I was scared that we didn't have the perfect relationship. I was scared because we didn't have it all figured out. I was scared we wouldn't make it. I was scared we couldn't survive the road bumps that might lie ahead. I was scared of all the unknowns, what if's and could be's. I was no longer planning a wedding. It was my wedding day, this was real, I had to make a very important decision.

I had to decide whether or not I was going to TRUST in what God had in store for Dave and I. For me, like I've mentioned, our relationship centers around our faith. And so we truly believed that God was calling us together for something bigger than just a relationship. BUT that doesn't mean I still wasn't scared out of my mind! Shaking, I found my Dad at the top of the stairs to the church, he grabbed my arm and I'll never forget what he said to me.

"You ready? Let's do this!" And with a steady arm he supported me as I entered and saw Dave at the end of the aisle. In that moment, taking my Dad's sturdy arm and leaning almost entirely on him, I made a decision. I made a step of faith. I knew the statistics, all the things that COULD go wrong. I knew that Dave and I weren't perfect, I knew that we had a lot of work to do. But I decided to take a step of faith, trusting that no matter what came our way, God would be by our side, growing us closer together and helping us through this life.

Almost seven years later I still remember exactly how I felt those moments before I walked down the aisle. I don't laugh or snicker at how I felt. I know that I felt those things for GOOD reason. They were not feelings of doubt or anxiety but feelings of uncertainty of what the future might hold. No relationship is perfect or guaranteed to last. It takes determination, sacrifice, hard work and a heavy dose of grace.

BUT today I can look back on the timid girl and feel confident that I took the right step. I took a step of faith towards my future with the man I loved. We took a step of faith together into the unknown, and still do everyday. Is our relationship perfect? HECK NO. But together we are made stronger, together we are walking through a present and into a future with vision, purpose and a dedication to us.

Perhaps this is all just a bunch of rambling. BUT I hope that it can encourage at least one person who may have ever felt or IS feeling this way. Yes, we don't know what the future holds. We must take steps of faith everyday, walking with hope and love, into a beautiful future together.

(Please tell me someone else had to breath into a paper bag too?! I mean it was 100 degrees out and I was wearing a wedding dress.... :-P)

And to be a little cheeky, as our dear friends always say every year to one another, Dave, "I'm so glad I hitched my wagon to yours!"