Create A Getaway At Home
Happy Monday friends! It's time for another Marriage Monday and today we're talking about the bedroom! Ok, we're keeping it clean folks! What I mean is I want to chat about creating a getaway in your own home.
When we first moved into our home we didn't do too much with our bedroom. But slowly as we settled in I revisited the idea of creating a space in our home that could be an escape. A place that would create a relaxing environment. A place that we both wanted to spend time in.
As a married couple, your bedroom should not just be a place that you sleep in. It's the place where you want to cultivate your intimacy as a couple. And that means more than just in the bed! Your bedroom is where you share your hopes, your dreams, your goals over pillow talk. It's where you laugh together and fight together. It's where you start and end your day together. The bedroom should be a place that isn't just for sleeping but for growing and maturing your relationship.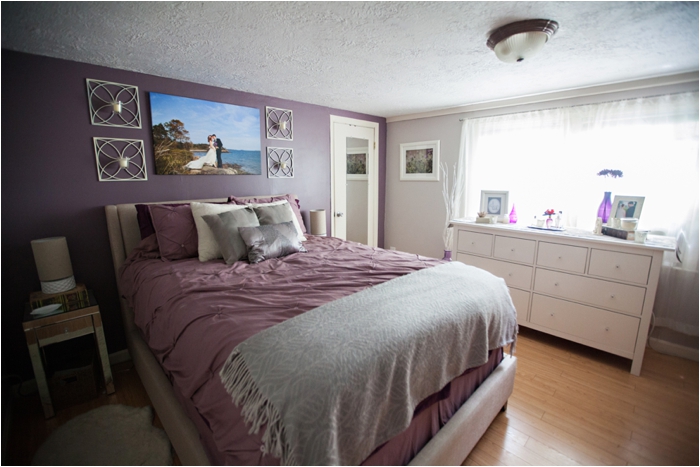 So how can you create a place in your home that encourages and cultivates intimacy in your marriage? It doesn't mean you need to have high end finishings, fancy furniture or the perfect paint color. It means you intentionally make it a place that is inviting for both you and your spouse and that makes space for intimacy to grow in your relationship.1. Make the bed every day. I think there is a pin floating around Pinterest that says to have a more productive day you should make the bed. And I wholeheartedly agree. There is just something about a tidy, clean and made up bedroom that helps me focus on the rest of the day. Give your bedroom the respect it deserves as a place of intimacy and specialness. Pick up the laundry, tidy up the bureau, make the bed! Do you need to be perfect at this every day? Heck no! But make efforts to keep this place in your home sacred and you can start doing that by simply making the bed!
2. Add personal touches. Have you ever looked at a catalog home and thought that it looked pretty but lacked any personality? While your thinking about your bedroom and creating your getaway space don't forget to add details that are meaningful to you! Pictures, phrases, verses, momentos, whatever it may be, scatter those personal touches around the room! For us I have placed pictures of Dave and I around the room. Whenever I look at those images I am immediately reminded of just how much I love that man. Cheesy I know, but it makes me want to BE in our room so much more.
3. Lighting. If you can, add soft light such as candles or lights on dimmers to create a relaxing atmosphere. Nothing is quite as distracting and unattractive than harsh overhead lighting. No one wants to spend time in a room like that! Adding a spa like feel with candles, soft lights, soft music, whatever it may be, immediately helps to reduce your blood pressure and relaxes you. And who wouldn't love to spend time in a room like that?!
4. Color Choice. When thinking about your getaway, choose colors that are soothing to you. Just like adding soft lighting, the color choice of your bedroom can do wonders for your mood and health. A color that attracts you, comforts you, relaxes you, will draw you in and ultimately create a space that you want to escape too. For me this includes colors like purple and grey. They calm my spirit and make me feel lighter. Who wouldn't wan to feel that way in their bedroom?!
5. Television or no television? Oh this is a biggie! The first few years of our marriage we had a tv in our bedroom and I have to say I didn't really mind! Those late nights where you just want to veg out to the Kardashians or when your sick and can't even think about getting out of bed, those are the days when having a tv in your room is just the best. But when we moved into our home, the hubster wanted the tv to go and we haven't put it back since. For us it works better as we go to bed at the same time, we don't keep each other up at night and we don't ignore one another by watching tv. DO what works for you! Just make sure that if you do have a tv in your room that it doesn't replace that important time you spend cultivating intimacy.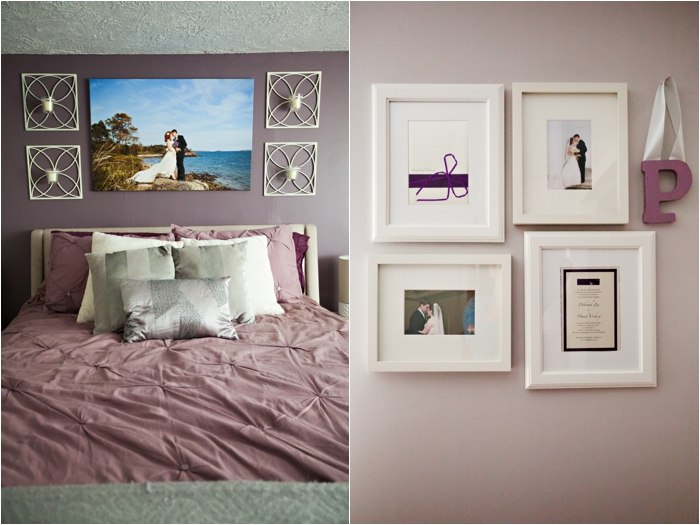 Ultimately your bedroom and your home should be some place that you can escape too. For you and your spouse, your home should be a place that each person can relax in and enjoy each other in. Is our bedroom catalog perfect? Absolutely not. Do we make the bed everyday or pick up the laundry every day? Nope. But we DO try make this a sacred space in our home. And that is something anyone can do! What have you done to cultivate intimacy in your ownhome? Is there a place in your house that is a getaway for you and your spouse? Any advice to share? I'd love to hear!(Above are some of the personal details that we've incorporated into our room! Pictures from our wedding day, our wedding invitations, even the letter of our last name! To me these are just little ways that make our bedroom more inviting and more meaningful!)