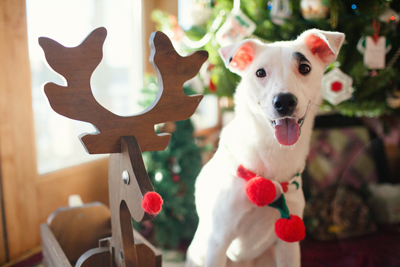 This is going to be a very short post to wish you all a very Merry Christmas!! Currently I'm sitting at my parents house waiting for the bacon wrapped scallops to finished listening to my husband talk history with my Dad in the kitchen as Christmas music softly plays in the background. Ahhhhh. We already started the Christmas celebrations in New Hampshire with Dave's family yesterday. I've enjoyed every minute spending time with family so far and I'm pretty excited to continue the fun tomorrow!
Maya wanted to jump on real quick too, to wish you all a Merry Christmas! Plus she's hoping that if she looks cute enough that maybe she'll get a few extra Christmas treats out of the whole things!
Have a great few days everyone and I'll see you later this week!