Heart Love Weddings, Paper Hounds, Style Me Pretty
I have two weddings left in the 2012 wedding season...TWO! I cannot believe that the season is winding down and coming to an end. This past year has flown by!! Even more, I cannot believe that I have two weddings left until baby!! This year has brought so many changes and next year bring even more! And while I can't wait for 2013, I sure am going to relish these next few months "off" to prepare for next season and baby!
This wedding season has been nothing short of amazing. I've had the privilege of working with some of the best people in the world. And no, that's not an exaggeration. It's my goal to be able to work with people who I connect with, who are excited to get married, who are genuine, kind, and who understand why I love what I do. And I can confidently say that the couples I get to work with far exceed any expectations I could ever have. I'm one lucky girl!
So it's no surprise that I love seeing the weddings of my amazing couples featured. I know that their wedding was fabulous, but now everyone else gets to experience it too! I love working these these publications too, they always do an amazing job retelling each couples story and highlighting the best of each wedding! As a photographer, well that just makes me very happy!
Congrats to my recent Brides who had their weddings featured! Love you ladies!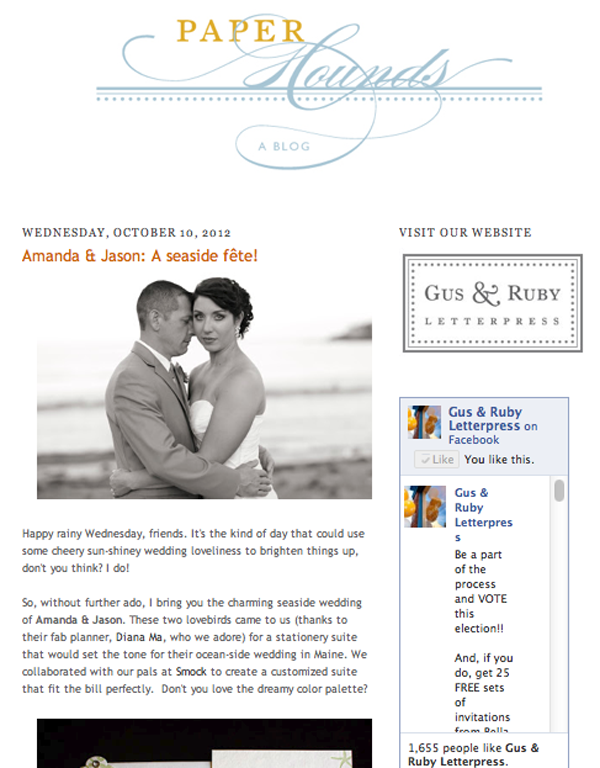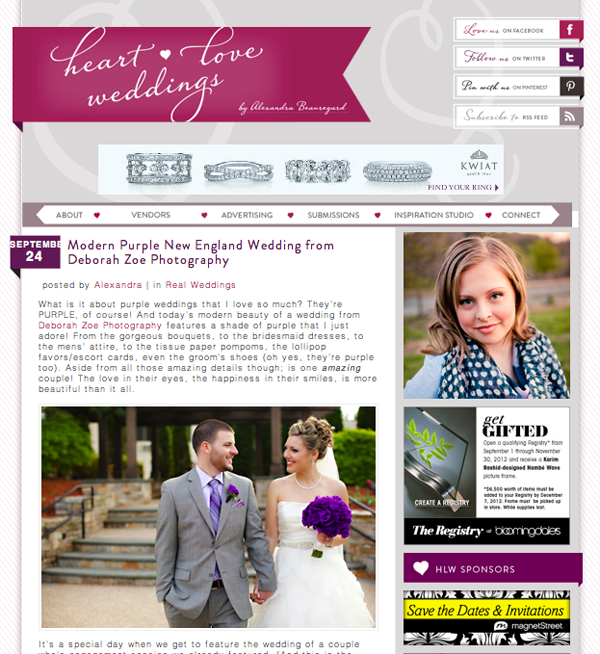 Heart Love Weddings featured the summer wedding of Sam and Diana at the Codman Estate. Alex always does such a great job retelling the love story of each of the couples she feature... You wont want to miss this story of childhood sweethearts!The stationary gurus of Gus & Ruby Letterpress featured the lovely seacoast wedding of Amanda and Jason at The Meeting House on their adorable Paper Hounds blog. They created the gorgeous letterpress stationary for Amanda's wedding, echoing the seaside theme and beautiful seafoam green colors used in the wedding!Megan and Kenny's spring wedding at the Bedford Glen was also featured on Heart Love Weddings, a special treat as their engagement session was also featured! Make sure to check out all the adorable purple details! Of course who doesn't love a stylish Newport fête?! Dave and Lindsey's coral and prep inspired wedding at Regatta Place does not disappoint. Make sure to see all of their beautiful wedding featured over on Style Me Pretty!Mike and Monica's multicultural wedding at the Boston Peabody Marriot was featured on the adorable Massachusetts Wedding Blog this summer. Don't miss their adorable affair!Congratulations to all my couples whose lovely weddings were featured this summer and fall! I absolutely loved reliving your big day and secretly wish we could do it all over again together! Happy Friday!